Spring Garden Farm is a family friendly, 18 stall premier horseback riding and training facility with 25 acres of beautiful land in Rehoboth Massachusetts. We are professionally operated equestrian facility located just 10 minutes away from Providence, RI and minutes to major routes 95, 195, and RT 118.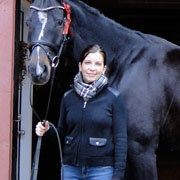 Kerri Arruda- Owner
Kerri started riding horses at the age of five. At the same time, she learned how to take care of her own horses and ponies, which gave her important experiences in caring for and managing equines. Today, Kerri is using her valuable knowledge to run Spring Garden Farm as a highly professional as well as friendly boarding and training facility. Strongly supported by her husband Valdemar Arruda, she never hesitates to take on any tasks, whether that means providing superb service to her clients, importing high quality sport horses from Germany, or constantly making improvements to her beautiful and modern property.
Furthermore, Kerri was an enthusiastic pony clubber, which lead her to be the educated and highly motivated rider that she is now. Her willingness to continuous enhancement of her riding skills clearly show in the many lessons she takes with great instructors such as Michael Poulin, Danielle Gavriluk, John Zopatti, Authur Kottas, Nancy Later, Conrad Schumacher, Beth Beukema, and Shannon Dueck. Under their supervision, she Earned scores though to the 80s on a horse she backed and trained all by herself, as well as other horses of various ages and level of training. Kerri is also a Bronze medalist and is participating in the L judges program with hopes of becoming a FEI Judge someday.